4-15-14 Matthew de Grood, 22, Calgary, Alberta house party mass stabbing
A couple of hours into a house party in the Brentwood section of Calgary to celebrate the full lunar eclipse, guest Matthew de Grood, 22, grabbed a knife from the kitchen and then fatally stabbed five people in attendance.
The killer
RIP
Zachariah Rothwell, 21; Jordan Segura, 22; Josh Hunter, 23; Kaitlin Perras, 23 and Lawrence Hong, 27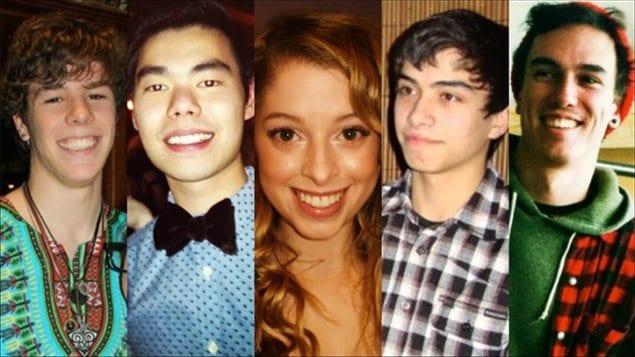 De Grood claimed he had to kill his victims because they were vampires/werewolves/zombies. All the shrinks who examined him in the aftermath agreed he was suffering some kind of psychotic episode that night, though they were hard pressed to explain exactly what his problem was. He had no history as a mental case, nor a criminal history.
http://calgary.ctvnews.ca/defence-focuses-on-mental-state-at-murder-trial-for-matthew-de-grood-1.2906880
Choy went on to say that "sometimes it can take years to determine psychosis" and that there was '
no specific diagnosis why his psychosis was present
. .....He basically said that without doing more extensive testing he
can't be sure exactly
what label to put on the disorder ...."
Very little info on De Grood''s background has been released. No interviews with his siblings, parents, schoolmates, neighbors, co-workers, etc. We don't even know where he lived. We don't know the results of any search warrant at that location, or what was found in his car. Also almost nothing in the way of his online activities has been made public. But enough has come out to show the similarity to other Columbine-client types:
[source:
http://live.calgarysun.com/Event/Matthew_de_Grood_murder_trial?Page=1
tweets from the reporters in the courtroom]
UNIFORM
"De Grood had just finished a shift at a grocery store and
wore his uniform
to the party. "
Yet video that shows De Grood being hauled away has him wearing
cami pants, combat boots, and a black t-shirt
:
http://globalnews.ca/news/2697356/trial-to-begin-for-matthew-de-grood-accused-in-brentwood-mass-murders/
THE LOOK
De Grood had the same strange look on his face seen so often in similar mass rage attacks:
' "The accused had a
blank look
on his face and appeared not to fear the police dog, which was unusual," Crown says of Matthew de Grood.
' "To me it looked like he was looking through me," Const. Rob Tippett tells court.
"De Grood was "
emotionless
. Just staring through me like I wasn't there."
"Matthew de Grood had "
expressionless
eyes and face," upon his arrest, Const. Rob Tippett says.
" "He seemed
very calm, relaxed
. Like he didn't understand the gravity of what had happened," Const. Tippett."
------------------------------
The perp sounds like he was initially programmed to self-destruct:
"He said he tried to
slit his wrists
inside the dumpster so he could be reincarnated.
" "I ran at the officer so he would
shoot me
and I would be reincarnated," Matthew de Grood said.
" "Matthew stated that he thought he was
supposed to kill himself
," Det. Kurt Jacobs says of de Grood."
-----------------------------
Other statements made by the accused strongly suggests mind-control was being employed:
" 'Matthew de Grood told police he said to victim "I am sorry, but
I have to do this
."
" "I stabbed people in the house. It was justified because
I was being controlled
," de Grood told police.
" "He was just trying to kill the zombies and 'I'm sorry
I had to kill
them,'" cop quotes Matthew de Grood.
" "He stated he was living in a computer generated world like in the movie
The Matrix
," Dr. Lenka Zedkova said of Matthew de Grood."
http://www.ctvnews.ca/canada/accused-believed-he-was-killing-werewolves-and-medusas-in-fatal-calgary-stabbings-1.2903507
"...he had
heard a
male
voice
, who he thought was the devil, telling him to 'kill them before they get you.' "
Voice-into-Brain technology?
/